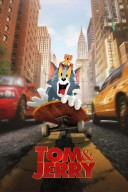 Infos
Emplacement :
smb://VLAD-SERVEUR/VIDEOO/Film/
Crée par :
Tim Story
Pays :
United States of America
Durée :
1h, 41min
Genre :
Comedy / Family / Animation
Année de production :
Note :
5.2/10
Information imdb :
tt1361336
Description
Tom the cat and Jerry the mouse get kicked out of their home and relocate to a fancy New York hotel, where a scrappy employee named Kayla will lose her job if she can't evict Jerry before a high-class wedding at the hotel. Her solution? Hiring Tom to get rid of the pesky mouse.


Film

Tom & Jerry (2021).mkv