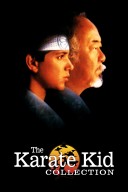 Infos
Emplacement :
smb://VLAD-PC/VIDEOOOOO/Film/Karaté Kid/
Crée par :
John G. Avildsen
Pays :
United States of America
Durée :
2h, 6min
Genre :
Action / Family / Drama
Année de production :
Note :
7.3/10
Information imdb :
tt0087538
Description
Hassled by the school bullies, Daniel LaRusso has his share of adolescent woes. Luckily, his apartment building houses a resident martial arts master: Kesuke Miyagi, who agrees to train Daniel ... and ends up teaching him much more than self-defense. Armed with newfound confidence, skill and wisdom, Daniel ultimately faces off against his tormentors in this hugely popular classic underdog tale.


Film

Karaté Kid (1984).mkv